Hearology Dorking Clinic
Ear Wax Removal in Dorking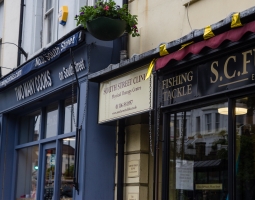 About us
Ear wax removal services from Hearology in the South Street Clinic, Dorking
The South Street Physical Therapy Centre has added Hearology's full range of ear care services, including ear wax removal using microsuction, to its existing services that include homeopathy, acupuncture, massage, beauty therapy and reflexology.
If you live in Dorking, you will now be able to visit one of Hearology's ear care professionals in the South Street Clinic, and they can help you with whatever ear care requirements you have.
Your Ear Wax Removal clinic in Dorking
The South Street Physical Therapy Clinic, hosts of Hearology in Dorking, can be found in South Street, running alongside West Street, home to Dorking's famous antiques district.
Book an appointment now for fast and reliable Ear Wax Removal in Dorking
There is free car parking available in the Waitrose car park nearby, and you can park for free on South Street if you can find a spot.
· Centrally located
· Free car parking
· No disabled access
· By appointment only
Specialties
ear-wax-removal
hearing-loss
3d-ear-scanning